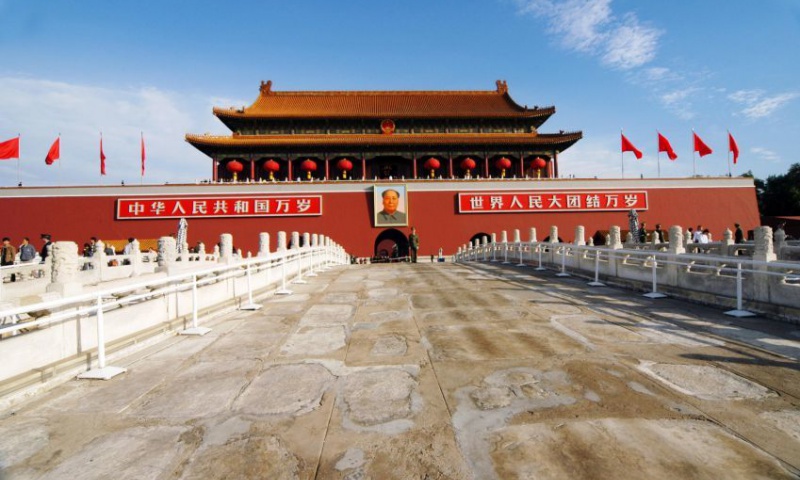 Бейжің Тян-ан мын алаңы. Фото: as.nida.ac.th,
On February 5, citizens of Kazakhstan collected and filed a complaint at the Chinese consulate in Almaty because of stopping their pensions from China. Before this time a number of citizens have already made separate statements on this issue. However, 35 Kazakh citizens, who were unable to get answer for their complaints and also who could not receive their pensions for around a year, applied to the consulate with the help of voluntary youth organization "Ata-Zhurt" to file a group complaint.
Retired citizens who were working in the state and in different spheres in China, after moving to Kazakhstan can not receive their pensions. It is the big problem which can not resolve for a long time. As stated by the Chinese Constitution and international legal requirements, pensioners who move abroad must be provided with a full pension.
In the end of May last year, a delegation from China's Xinjiang region came to Kazakhstan. They received verbal and written complaints from citizens who did not get their pension. They also assured that this issue will be considered by the constitution of People's Republic of China and they will take a positive decision. Moreover, after this meeting the administration of the Ile Kazakh Autonomous region announced that retired pensioners will receive a full pension after obtaining the citizenship of Kazakhstan.
Almost a year has passed, but we can see that the authorities of China have not taken a positive decision for pensioners. Complainants condemn Xinjiang's local authorities for failing to receive their money from the state pension fund which they allocated to pension fund from their salaries when they were working. The member of the "Ata-Zhurt" voluntary youth organization Yermek Sagimbek believes that this kind of rule was created by the local authorities of Xinjiang. "The Constitution of China makes it clear that every citizen of China is equal. Article 20 in the constitution of China states that even if they go abroad and receive foreign citizenship, their pensions will not be canceled, and article 28 clearly states that the administrative institution which stop to give pension would be brought to legal liability. These claimants assert their rights in accordance with the same law".
Fatima Askerbaikyzy was working for many years as a teacher in Kulzha in the Ili Kazakh Autonomous region. After retiring in 2012 she moved to Almaty with her family. Until 2016 she received her pension regularly. In May 2017, Fatima Askerbaykyzy was called by telephone her her institution where she worked in China. They invited her to fill the relevant documents. After arriving there, Fatima Askerbaikyzy was asked many questions by the local law enforcement agencies that she was engaged in terrorism or other illegal activities in Kazakhstan or not. And they made her sign many documents. In addition, they took her passport and they took from her the Republic of Kazakhstan's paper of residence permit and did not return them for about a month.
Fatima Askerbaikyzy, asked to retern her passport and he Republic of Kazakhstan's paper of residence permit to go to Kazakhstan to her sick daugther. She provided a certificate of her daugther's illness. The law enforcement agency gave the documents with several conditions. According to this demand, she has to deny the residence permit of Kazakhstan and just use the passport or she has to deny to get pensions.
"I was forced to agree with them to get my documents and go to Kazakhstan my illness daugther. They also took my pension card and made me sign the note of my refusal to get my pension. If I did not do that, they would not give my passport", - told Fatima Askerbaikyzy. "I said them that what they are doing is contrary to their laws, but they said that they have to respond to the local administration and it is their requirements. Since then, I can not get my pension", - she noted.
Citizens who filed a complaint at the Chinese consulate will wait for the reponse. Yermek Sagimbek mentioned: "We are expecting a positive response for our applications given to the Chinese consulate. However, if they do not answer, we will not stop here, as a citizen of Kazakhstan we will write the letter to the Ministry of Foreign Affairs of the Republic of Kazakhstan asking to protect our rights. We even will appeal to International human rights organizations", - he said.