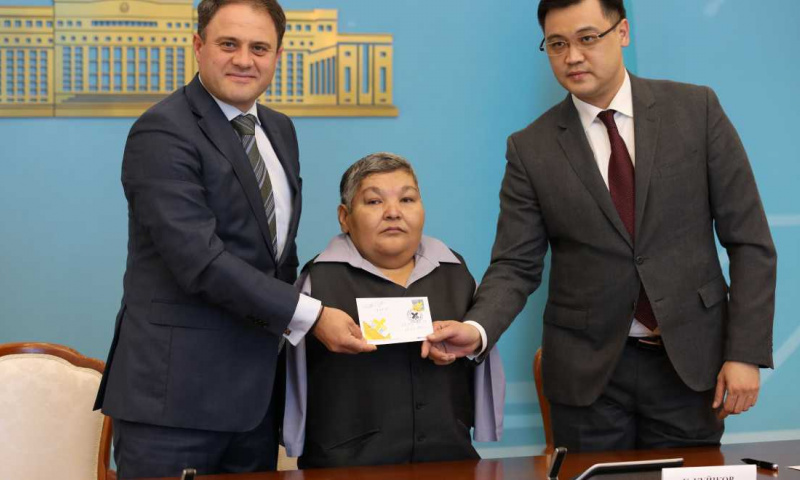 Photo: MFA
The Ministry of Foreign Affairs of the Republic of Kazakhstan held a postage stamp cancellation ceremony dedicated to the ATOM Project (Abolish Testing, Our Mission.). The project, an initiative of Kazakhstan's President Nursultan Nazarbayev, represents an international effort launched in 2012 to permanently end nuclear weapons testing and seek the elimination of all nuclear weapons, reports mfa.kz.
The event was attended by the Deputy Minister of Foreign Affairs of Kazakhstan Roman Vassilenko, Managing Director for Administrative Affairs of Kazpost JSC Bauyrzhan Ainabekov, as well as Honorary Ambassador of the ATOM Project Karipbek Kuyukov.
"The ATOM project is an important initiative of President Nazarbayev in global nuclear disarmament and public diplomacy. The projectwas announced by the President at the international conference 'From a Nuclear Test Ban to a Nuclear Weapon-Free World' on the International Day against Nuclear Tests on August 29, 2012 in Astana," Deputy Minister Vassilenko said.
The Deputy Foreign Minister also underlined that Kazakhstan, in cooperation with its foreign partners, annually hosts major international events to mark this day.
From August 29 to September 1, Astana will host a four-day conference of the Organization of the Comprehensive Nuclear-Test-Ban Treaty (CTBTO). The conference will be attended by the Minister of Foreign Affairs of Kazakhstan and prominent foreign representatives from across thepolitical, public and scientificcommunities.On September 6 there will be a formal meeting of the UN General Assembly dedicated to this topic in New York.
Honorary ATOM Project Ambassador Karipbek Kuyukov noted that the goal of the ATOM Project is to achieve real, ongoing changes by rallying people around the world to fight for ending the testing of nuclear weapons once and for all and, ultimately, achieving a nuclear-weapon-free world.
"The website of the ATOM Project contains a petition requesting country leaders to build a nuclear-weapon-free world. To date, more than 312,000 people from more than 100 countries have signed the petition. Our goal today is to reach 1 million signatures. If you have not yet joined us, feel free to do it any time. Everyone may sign the petition on the Project website www.theatomproject.org and thereby contribute to building a nuclear-weapon-free world," the well-known painter and activist emphasized.
The ATOM Project postage stamp from the series 'For the Sake of Life on Earth' was offset printed in four colors as a sheet of ten stamps. Comb perforation, circulation: 20,000 copies.