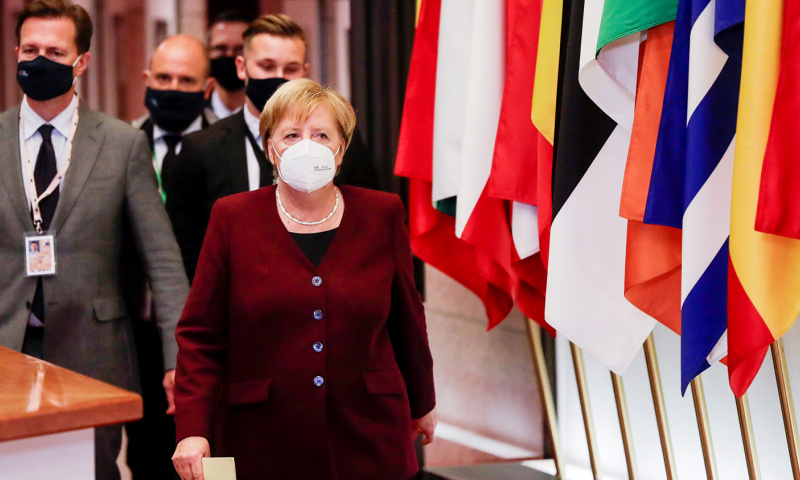 German Chancellor Angela Merkel leaves at the end of the second and last day of an EU summit in Brussels, Belgium October 16, 2020. Olivier Hoslet/Pool via REUTERS
Germaniyada halıqtı koronavirusqa qarsı jappay vakcinaciyalauğa dayındıq jürip jatır. Kelesi jıldıñ küzine deyin halıqtıñ 60%-ına virusqa qarsı ekpe egu josparlanğan.
Bir apta işinde elde azamattardı egu ortalıqtarı aşılğan. Kel'n qalasındağı sauda zaldarı künine 5 mıñ adamdı qabıldauğa äzirlengen.
Osığan deyin Germaniyada mwnday 440 orın qwrılıp, 10 mıñnan asa däriger jwmıldırılğan. Soñğı uaqıtta mwnda keys sanı artqandıqtan, bilik elde şekteulerdi qatañdatu turalı şeşim qabıldağan.
Älem boyınşa sınaqtan sätti ötken Pfizer, BioNTech farmacevtikalıq kompaniyası jasağan ekpe jäne amerikalıq Moderna ekpesin saludı bastağan elder qatarında Wlıbritaniya, AQŞ jäne Kanada bar. Koronavirusqa tosqauıl bolu maqsatında bügin Kanadada vakcinaciya bastaldı. Virusqa qarsı ekpege birinşi bolıp Wlıbritaniya biligi rwqsat berdi.
9 jeltoqsanda Britaniyada Pfizer kompaniyası öndirgen vakcinanı alğaşqı bolıp 90 jastağı Margaret Kinan esimdi britandıq äyel qabıldadı. Eldiñ Densaulıq saqtau ministri Mett Hankoktıñ aytuınşa, ekpeniñ 40 million dozasına tapsırıs berilgen.
Amerikalıq Pfizer jäne onıñ germaniyalıq seriktesi BioNTech kompaniyası birlesip äzirlegen vakcinanıñ tiimdiligi klinikalıq sınaqta 90%-dan astam oñ nätije körsetken. Al Oskford universiteti men AstraZeneca kompaniyası öndirgen koronavirusqa qarsı vakcina 70% tiimdilik körsetti.